I went to Cinema Cafe last night with three girlfriends from my mom's group. We saw Public Enemies. I've never been the type to really lust after Johnny Depp, but he was really, really sexy in this movie. I enjoyed it. A lot.

We went to Brian's work picnic this morning. Can it get any hotter outside? Probably.

Ezra has napped in his crib for the last three days, and has slept in his bassinet for the last three nights. He slept for 8 hours straight for the last two! When did he become so easy?

Brian has a four day weekend. We're going to Barnes and Noble tonight. I have a play date tomorrow. The rest of the weekend? Who knows. I'm going to church on Sunday. It's been quite a while since I've been to (Catholic) church. I stepped away for a long time but I'm feeling the need to reconnect.

I got Ezra's blood results back from Monday. His two liver enzymes that have been causing so much trouble? NOW COMPLETELY NORMAL!!! :D I was instructed to continue feeding him high-calorie formula for the next week and a half, then switch to the regular recipe. He's getting chunkier every day. :)

We ran to Target today and got Ezra a new bouncy chair! His other one (My Little Lamb) doesn't bounce... it just vibrates, which he hates. He likes this one and has been talking to the hanging animals. LOL


Talking to Zeke...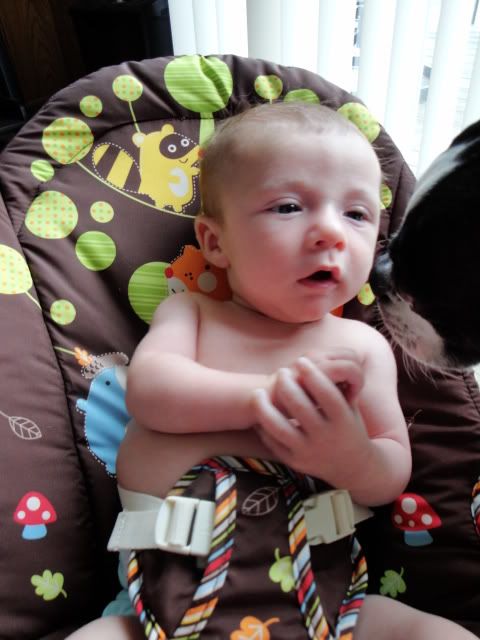 Having a serious conversation by himself... (he uses a lot of hand gestures. lol)